DIY(Do It Yourself) Supplies Grab Bags!!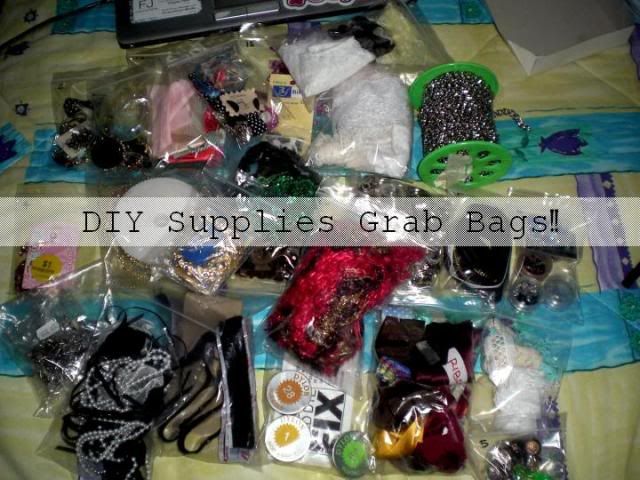 (FOR JEWELLERY/ACCESSORIES MAKING,SEWING,SCRAP BOOKING + ANYTHING YOUR CREATIVITY TAKES YOUUUU!)
stuffs under the cut:
-Pendants/Charms/jump rings/yarns/brooches/studs/dye/ribbons/laces/chains/zips/trims/buckles.....

UPCOMING SALES:

-Fabrics (Scraps + some in 1 meter or more- PVC leathers,Denims,Printed Chiffons....)
-Fashion Design & Guide Reference Books)

PLEASE LEAVE A COMMENT/EMAIL IF YOU'D LIKE TO BE NOTIFIED OF THE SALES!!

Personal Feedback: +8/-0
SGST Feedback:+68/-0


i'm open for any questions..but please dont ask me to count how many beads or how long is the ribbon/lace/trims.eheheheh...
so yaaa..
i'll even answer questions on the uses if you ask nicely..i'll try my best to answer any qns :D
email:bohemia.revived@gmail.com :D

oh yes:something on a personal note....
these are stuffs that i had collected over the span of 3 yrs in fashion school.
as we had to do a lot of research on trims and such for our design projects,
these were bought on that purpose.so,most of them are bought as samples..while some are left overs from the completed projects.they are all pretty much still verryy useable!

i understand that designing/jewellery making and such requires some amount of money to start up..so instead of throwing these away,i'd like to sell them cheap for people who are into jewellery/accessories making,sewing and scarp bookings!

Love,
Hyddy!!




PENDING PAYMENT/SOLD:

1,2,4,6,15,7,11,14,12,10

PICTURES IN THEIR INDIVIDUAL BAGS!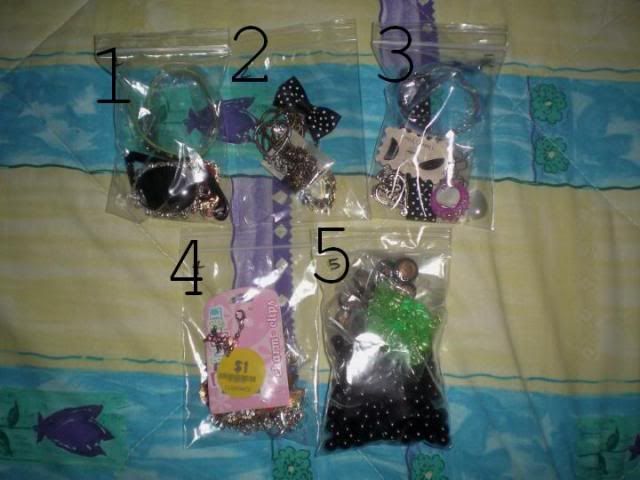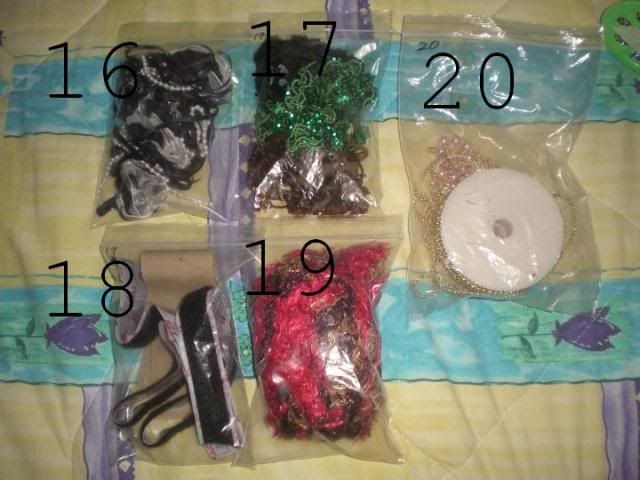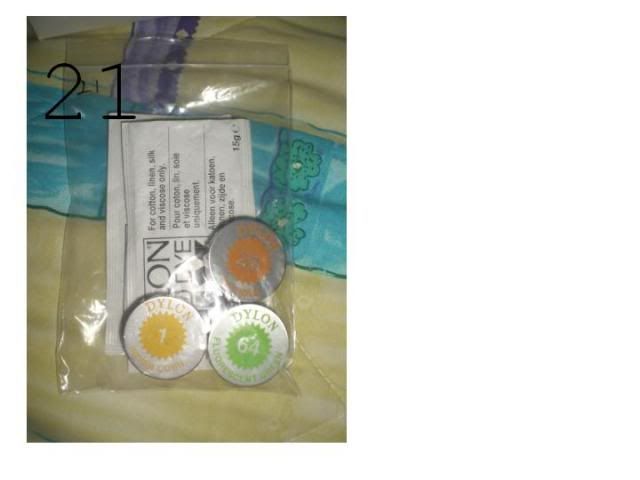 PICTURES LAID OUT FOR CLEARER VIEW OF EACH BAGS!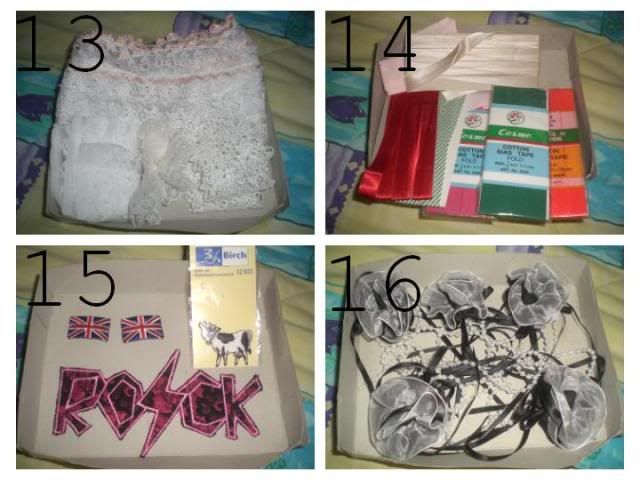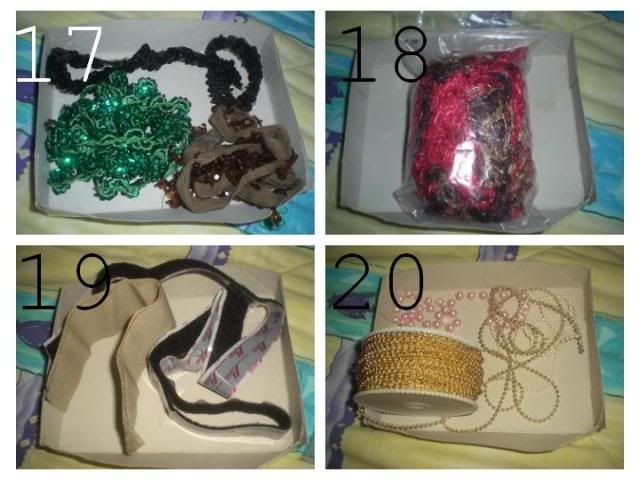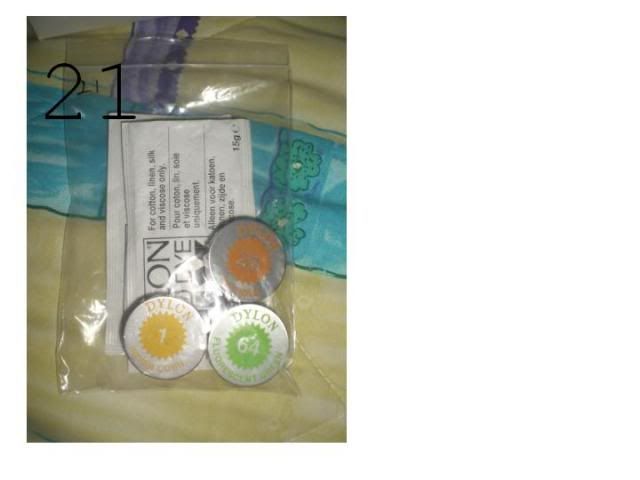 DESCRIPTIONS+PRICES: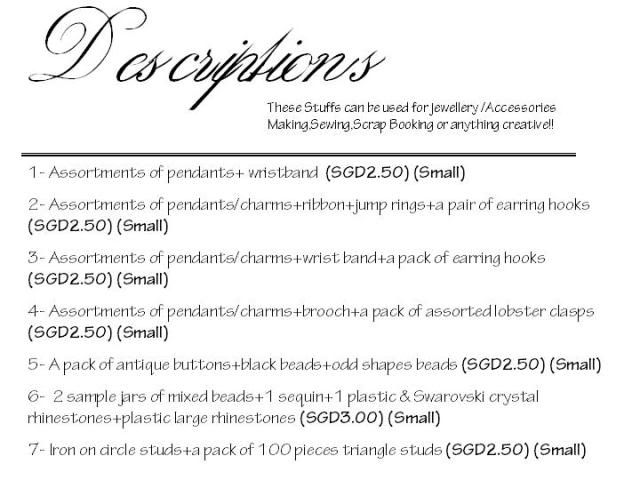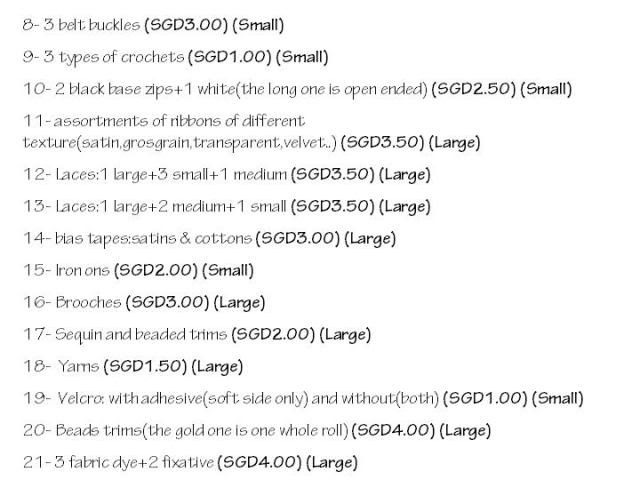 OTHERS: